Are you looking to add a store to your link that isn't already available in our stores list? Now you can create custom stores with ease through your dashboard instead of making a request!
Here's how to get started. First, you'll need these items: 
Service/Store Name (i.e. "Rough Trade", "Secretly Store", etc)
Store icon image in .png format with transparent background: Display ratio is 1 x 1 ( 150x150)
Store logo image in .png format with transparent background: Display ratio is approx. 3.2 x 1 (345x96)
*Please make sure your store logo is aligned to the left so that it appears correctly on your link.
Then decide what you'd like your visitors to do with a Call to Action. You'll be able to choose from our list of CTAs.  If you do not see your desired CTAs you can always override and change them in your link settings after adding your store to your link.
Pre-Release CTA (i.e. "Pre-Order", "Pre-Save", etc)
Released CTA (i.e. "Buy", "Play", etc)
Once you have your materials together, click on your account's drop down menu. Here you'll find custom stores. 

Click to enter. Your custom stores live here! Click "Create Store" to create your new custom store.
You'll be brought to step 1 of the creation process. Here you'll upload your Store Logo image (345x96px), your Pre Release CTA, and your Post Release CTA. There are two layout types available (basic and advanced). Your basic layout can be previewed by clicking on the "Basic Layout" link below.
On step two of the creation process, you'll add your Icon image (150x150px). You'll also to be able to change the text color and background color of your store button. A preview of the advanced layout is also available here.
Here's an example of our Basic Layout (Left) and the Advanced Layout (Right). 
.    
On the third step you'll name your custom store. This will be displayed in your custom stores list and is for your viewing only.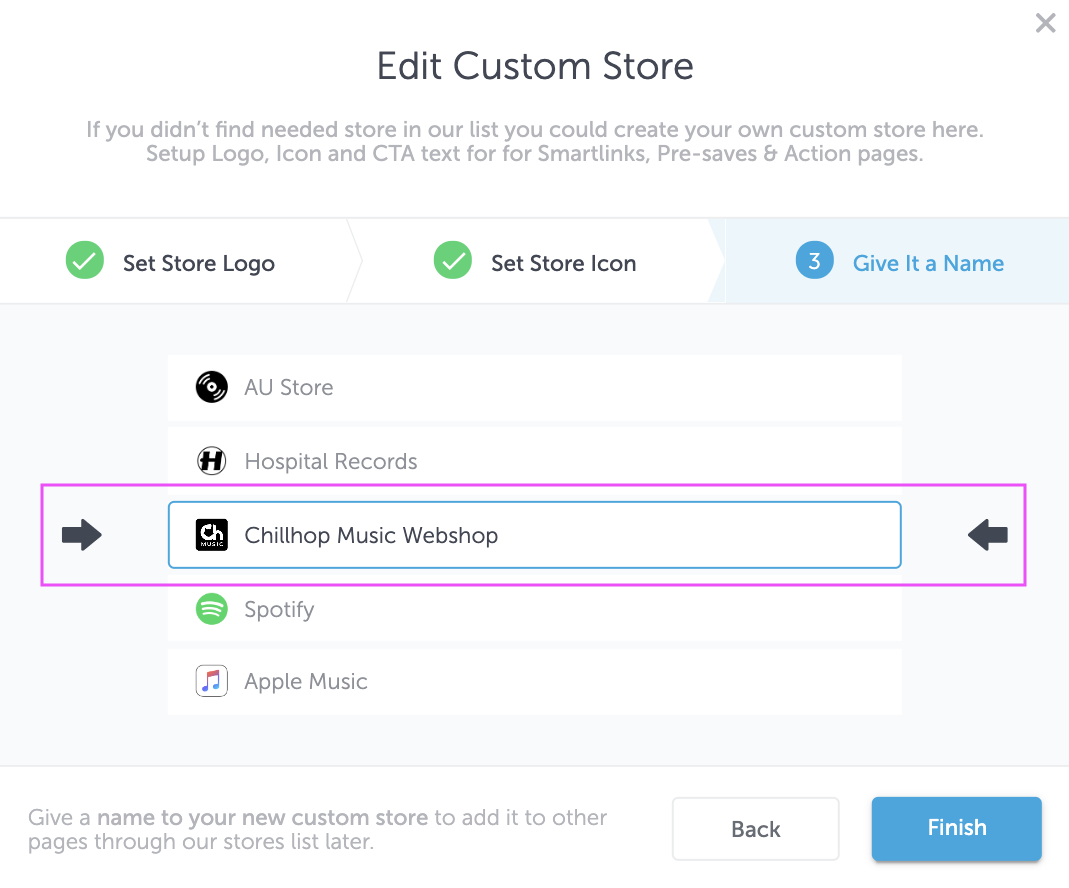 Click Finish to save your changes. Your custom store is ready to be added to your Pre-Saves, Smart Links, & Action Pages!