You can embed videos, songs, albums, playlists, artist profiles and more into your Feature.fm Bio Links. We support embedding videos from YouTube and music from Spotify and Soundcloud. No code is needed - All you need is the URL and feature.fm will do the rest.
How to embed a link on your Bio Link:
Start by clicking "add a new button" to your Bio Link and selecting "Embed" from the dropdown. You'll be able to insert the URL here for your chosen service in the blank field. We'll populate your button after you enter YouTube, Spotify, or Soundcloud link.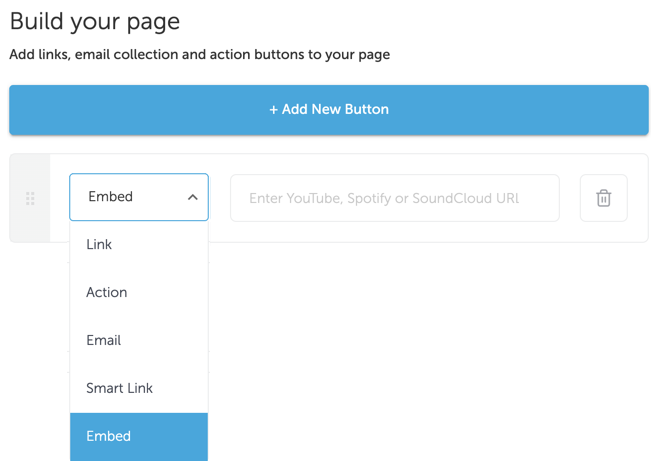 Embed a Video:
YouTube: Embed your YouTube videos on you Bio Link. We'll accept unlisted videos as well.
Embed Music Player:
Spotify: Copy and paste any Spotify link from a single track, album, playlist, or Artist page. (Tip: use y

our Spotify artist link to showcase your top tracks!)

Soundcloud: Copy and past any Soundcloud link from a single track, album, or playlist.