One you have uploaded your song and included all of your song level detail, you are ready to start targeting listeners!
1. Choose your target locations - where do you want your song played?(Deezer Campaigns only)
For Deezer campaigns, you can either select to play your song to all locations globally, or choose specific locations. When you choose specific locations, you can target any country and even target specific states inside of the United States.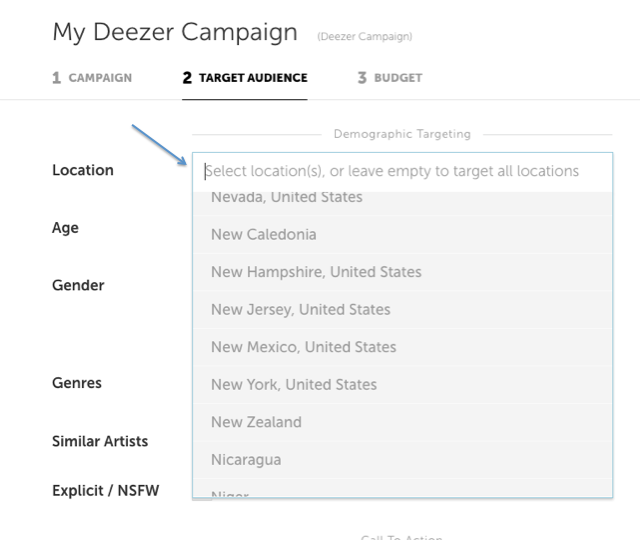 2. Select Age and Gender.
You can choose a minimum and maximum age that you want to target your song to as well as a specific gender.
3. Music Preferences Tagging
You can choose genres and tags that are relevant for your song. These will be used to target your song to people who like your music style.
Tags let you be more specific, while genres are more general. When choosing tags, think about what you want people to search for to find your music. Use sub-genres, moods, and activities. You can also list similar artists to help target your song.
4. Choose a call to action
You can decide which type of call to action you want to display with your song based on your goals.
Display share buttons to share your song on Facebook and Twitter to maximize your exposure.
Display like/follow buttons for your Artist Facebook & Twitter pages to get more likes/followers
Display the subscribe button for your Artist YouTube Channel to get more subscribers
Display a link to purchase your song to try to encourage sales.
Display a space to collect fan's emails
Display a custom call to action with custom text("Action Name") and link ("Action URL") to anywhere you want to direct listeners.
We typically recommend including the sharing call to actions as we're all about getting as much exposure as possible or creating your own customer call to action!
4. Include a custom message to listeners
We will automatically display your artist bio that you included in your artist profile, but you can also choose to write a custom message instead for a specific campaign. This helps your listeners learn more about you. We recommend a length of one paragraph.
Finally, hit next to set your budget!