There are a number of reasons to utilize a Custom Domain in Feature.fm. Using Custom Domains for your Feature.fm landing pages gives you a higher level of branding and vanity when sharing your music with fans.
However, after Facebook's recent changes in response to the iOS 14 updates, it is now required to use a custom domain in order to continue using custom conversion events in Facebook Business Manager and Facebook Ads.
Due to Facebook's recent changes, we have determined that the only way for you to continue to use conversion events properly in Facebook is if you use a

custom

domain in Feature.fm

.
Learn more here
What is a Custom Domain?
Custom Domains allow you to replace the "ffm.to" URL for your Feature.fm Landing pages with a domain that you own (i.e. mycustomdomain.to).
What are the different types of domains in Feature.fm?
Standard

feature.fm links start with an ffm.to/ and allow you to edit the end of your URL.

Sub-domain

links allow you to customize the vanity text on your links. For example, if you have an artist named Tonal Blues, you can assign a sub-domain to your artist allowing you to create a link like tonalblues.ffm.to/release.

Custom Domains

allow you to have a fully customizable link for your landing pages if you own a website. For example, you can create a link like tonalblues.com/release.
Can I use Sub-Domains for my Custom Domain?
Yes! Once a Custom Domain is added to your Feature.fm Account, you can easily create custom Sub-Domains for your Custom Domains directly inside of your Feature.fm settings (i.e. subdomain.customdomain.to)
Am I eligible to request a Custom Domain?
It depends on your Feature.fm marketing plan and payment terms.
Find out if you're eligible for a Custom Domain
Or get a Custom Branding Packages that includes a Custom Domain
Branding Packages let you have even greater customization over the branding style of your Marketing Landing Pages. In addition to adding Custom Domains, Pro Artists and above can submit a request for our Custom Branding Package for $50/mo, which includes a custom domain. The package includes:
1 custom domain (requirements same as above)
1 custom favicon
1 custom, hyperlinked logo on the link (clickable & routes to your domain; .GIF formats accepted)
For example: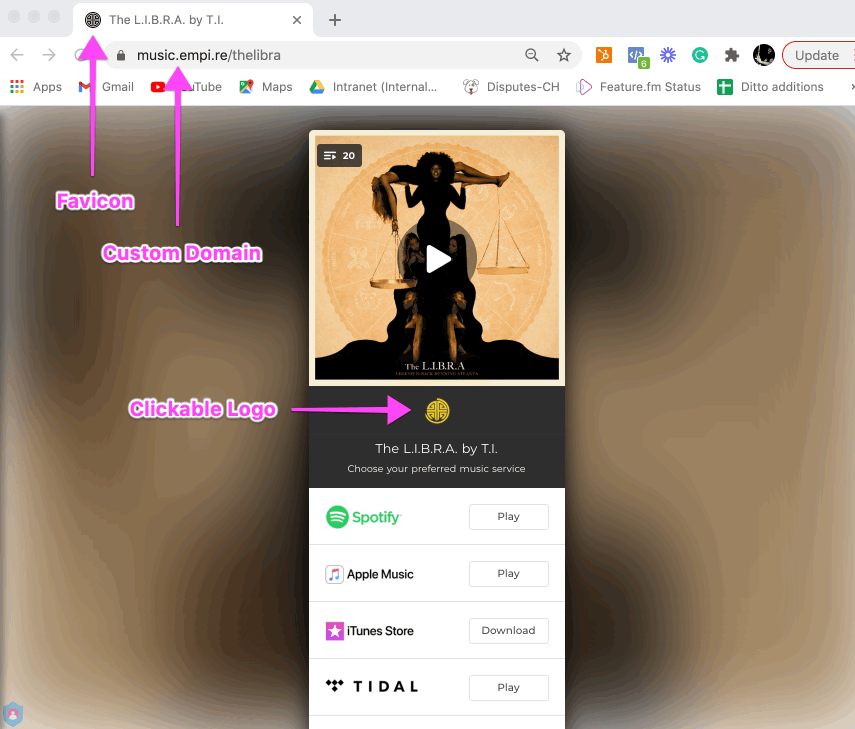 Feel free to reach out to us if you have any questions about Custom Domains or Branding at support@feature.fm