Our email collection feature allows your fans to sign up to your mailing list directly on your Smart Link.
When creating a Smart Link, Pre-Save, or Scheduled Release link, you now have the option to collect your fan's email addresses without requiring a connection to their account on services like Spotify, Apple, Tidal, and Deezer. This tool can massively help you to grow your digital marketing list, and gain new fans! Check it out in action below!
How to turn email collection on?
1. When creating or editing your smart link or pre save, go to the link creation tab. You'll add email collection similarly to any other store on your links. Just search for email subscribe in our stores list, and then click add.
2. You can choose to edit the Title and Action Button text, or keep the original. To do this, go into your link settings, and uncheck the box that says "stores order". You'll then be able to edit both the email store name and the call to action. You'll be able to change the order of the stores by dragging and dropping it in your preferred place.
Enable Email Collection by Default to Artist Folder
in your Artist folder settings -> Link Settings you can add the Email Subscribe store to your default stores. This ensures the store is added to all of the links to the corresponding artist folder.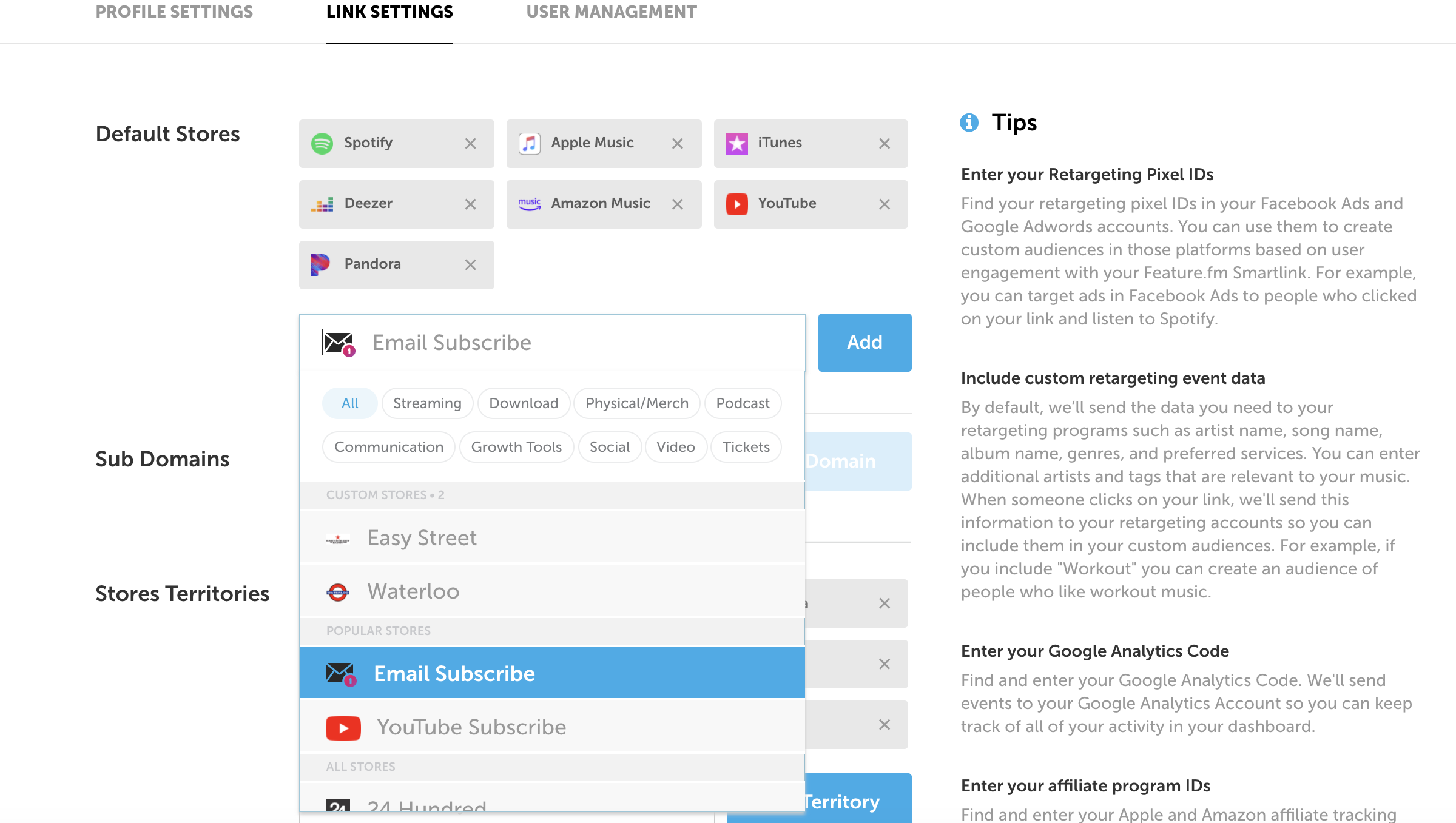 Where can I see the email I collected?
1. To view your fan emails, first click into your analytics dashboard (the graph button entitled "Insight"):
2. Scroll down to your summary, and you'll be able to view your fan data. If you have email collection enabled on a Pre-Save link, your captured emails will be displayed together and we will note "email subscriber" as their sign up method on the left:
3. You can export your emails by clicking on the blue "Export" button on the top right hand side of the page. The amount of emails you are able to export will be pendent upon the tier of Marketing Suite you are subscribed to.

Audience Tab (For Pro users only)
The Audience tab is an available feature for Pro users. It allows you to see all of the emails you have collected from any Pre-Save / Action Page / Email Collection campaign in a holistic view.
You can filter your saved audiences based on streaming platform, subscription type, and location. These can be saved as direct segments within your account, or you may also export them in a .csv format.
How Does Email Collection Look?
Here is an example of a Smart Link with the email collection widget turned on:
Once a fan hits "subscribe", they will prompt a field to open up to enter their email address. Hit "enter", and your fan will receive a green success message:
You've now gained a new fan!