Understanding where your audience is coming from is a crucial element to a successful digital marketing campaign. With Feature.fm's channel tracking tools, you can always ensure you know exactly where your fans clicked on your link, meaning you can effectively and accurately target your promotion, as well as learn more about your audience's behavior.
How To Use Channel Tracking
Click on the blue "Get Link" button next to your Smart Link:
A wizard will pop up that provides pre-set channels for you to grab trackable versions of your Smart Link. We always recommend using channel tracking when sharing your link anywhere, so you can gain a better understanding of where exactly your clicks and engagements are performing best. 
There are two options to choose from: organic and paid channels. Select organic if you will be sharing your link without any budget or spend behind it (i.e. an EPK, an email, etc.), and select paid if your link will be part of an advertisement or paid campaign.
2. To get the channel tracked link, click on the channel and the tracked link will be copied to your clipboard:
"Direct Link" refers to the original Smart Link with no channel tracking attached to it.
If there is a channel that you'd like to track outside of the pre-set choices, you can create a new channel by writing in the desired title in the "add custom channel" field on the right and hitting enter: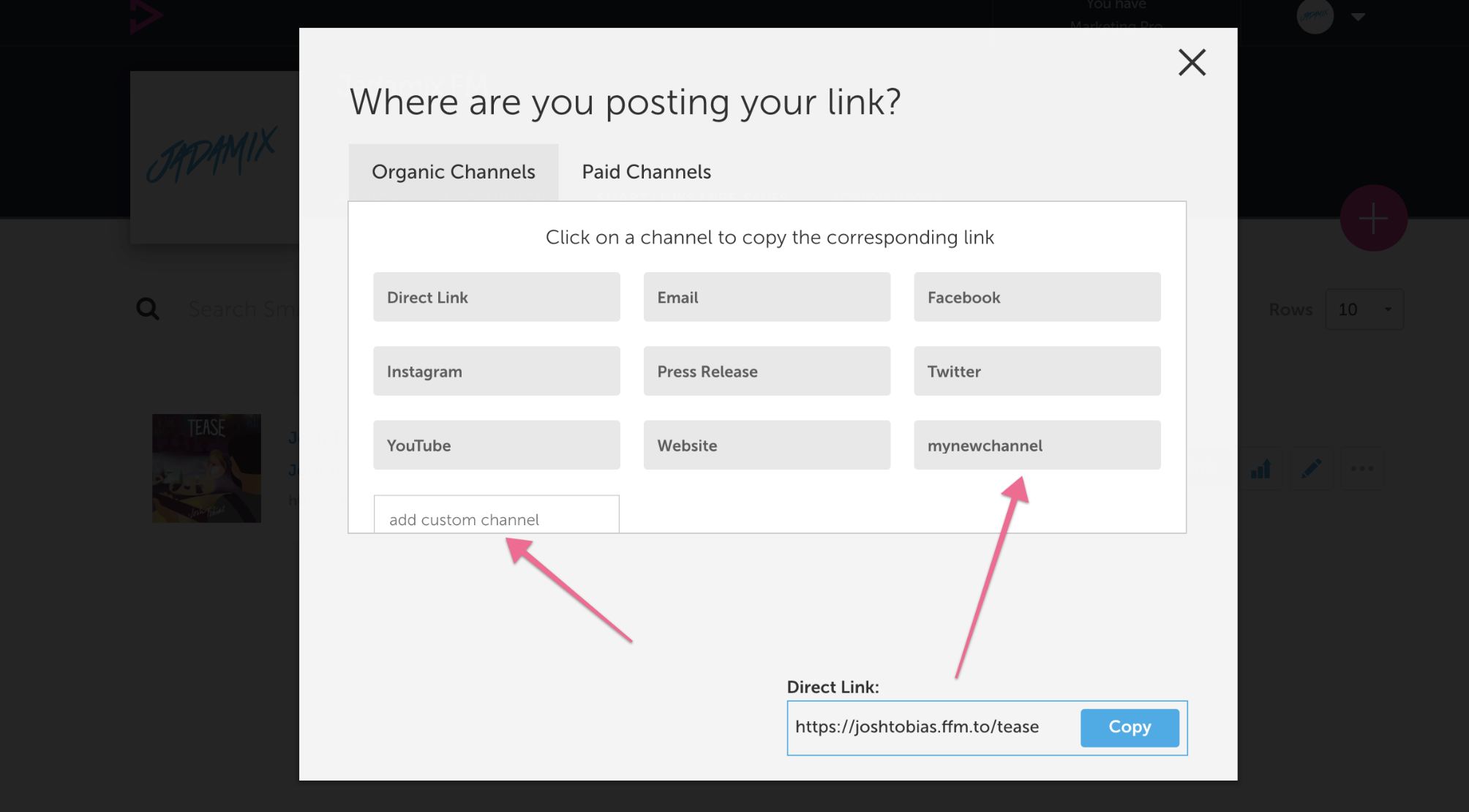 Direct To Store Links
If you hover your mouse over any channel, you'll see a black "+" sign appear. This will enable you to grab direct to store versions of every store that is on your Smart Link. When you share this version of the link, the user will skip over your Smart Link landing page completely, and be taken straight to the service. We will still aggregate all of the data that these versions of the link collect onto your one analytics dashboard.
To get the direct to store link, click on the service, and the tracked link will be copied to your clipboard: